Save Big on Reliable, Quality Service at Honda Of Victoria

May 02, 2017 06:49PM ● Published by Kayla Mayer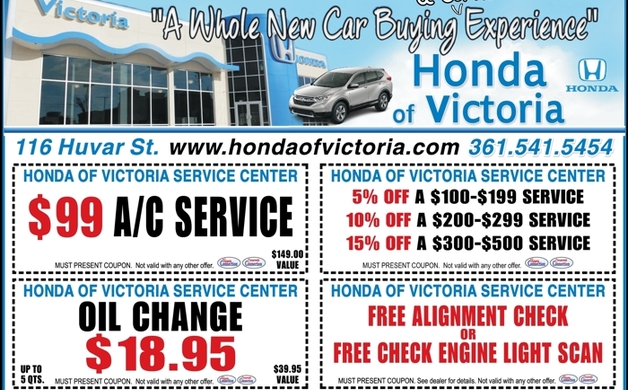 Honda of Victoria
 is here when you them for quality maintenance and repairs; service you can count on being done right, every time.
Save $50 on A/C services, oil change for only $18.95!
 Save up to 15% on many services, and get your vehicle tuned up for worry free travel anytime for just $179.95.
Take any of these coupons from your local Crossroads Connection Direct Mail & Online Magazine and feel confident about the excellent running condition of your vehicle.  
Tap the links below to discover more about Honda of Victoria.
"Taking care of your Honda maintenance in a timely manner is one of the most important things that you can do to ensure the longevity of your vehicle. Honda of Victoria can help you out with that. We will get to work on your vehicle whether you need an oil change or a filter replacement, and we will have it back in proper operating condition in no time. If you need more major services or repairs, even ones involving your engine or transmission, then the Honda of Victoria can certainly help you out with that too. No matter what your Honda needs, Honda of Victoria is the right team to call."

Come to Us For:
Lube, Oil & Filter Change
Maintenance (Wipers, Headlights, Etc)
Vehicle Checkup / Inspection
Your Honda Dealership in Victoria
"Are you considering a new Honda in your life? Then Honda of Victoria is where you need to go. We have a huge inventory of new Honda vehicles that includes models like the CR-V, Civic, Accord, Odyssey, and more. With our transparent pricing and fast sales process, we can have you out on the road in no time. We also have a full Honda service department to back you up after your purchase, and we provide extended warranties to give you even more peace of mind."
"Our brand new facility in Victoria represents the all-new Honda of Victoria. We are located right in the Crossroads and that means we can serve a variety of cities, towns, and areas including Port Lavaca, Edna, Cuero, Houston, Corpus Christi, and more. In addition to our new Honda inventory, we also have an extensive used inventory that includes many high quality pre-owned Honda vehicles. With quality used vehicles like these, it's no wonder we attract customers from surrounding metropolitan areas. We hope to see you soon, until then browse through our website and our inventory to see for yourself everything that we have to offer."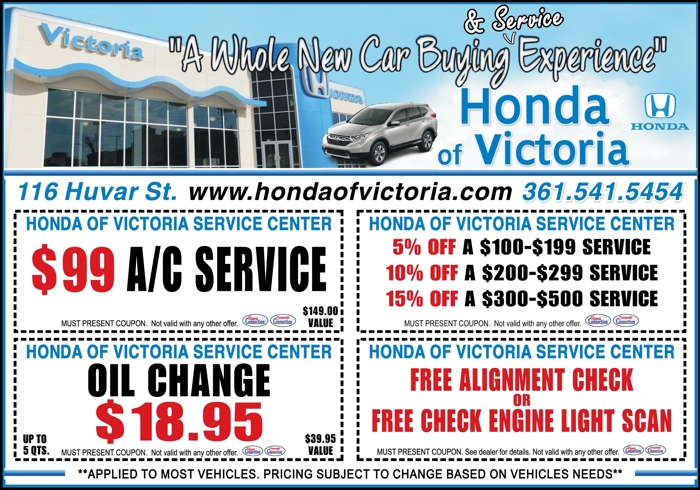 In Print
,
Community
Automotive